the foundation of sound

Wood

best flamed, curly or quilted textures or exceptional root woods

exceptional grains

every piece of wood is hand selected to guarante the best quality

hand selected

woods from all over the world as well as regional tone woods

great variety
every piece is unique in sound and appearance
Wood
The foundation of sound
The wood and it's sonic characteristics are the key element in the sound of our bass guitars (and every type of wood has it's own complex tonal attributes). What isn't in the wood will not be found in the instrument. We apply all our knowledge about tone woods and how to combine them in order to fulfill our customers notion of a certain sound. To reach that level to be able to do this it takes years of experience along with both trial and error. Eventhough nobody can predict the final outcome to 100%, a huge number of satisfied customers all over the world is proof that we actually come very close to the desired result.
The more than 30 types of tone wood we use include beautiful and rare pieces from all over the world as well as regional tone wood. Every single piece is hand selected to make sure we use just the best to become the foundation of your instrument. Our woods are stored properly under best climatic conditions for an extended period of time to ensure it is in a ready-to-use condition when taken off of the shelf for you. The majority of it is stored for more than 15 years, some extraordinary pieces are even over 100 years old, passed on from one generation to the next one. By the time we choose it to become a part of your bass guitar it already has a history.
wood is the element that influences the sound of your instruments the most
Here are some of the woods we use the most
Maple has a clear, brilliant sound with defined highs and a good sustain

Ash has a shiny, defined & brilliant sound with great sustain and good direct attack. Even if it has well pronounced highs, over all it sounds very balanced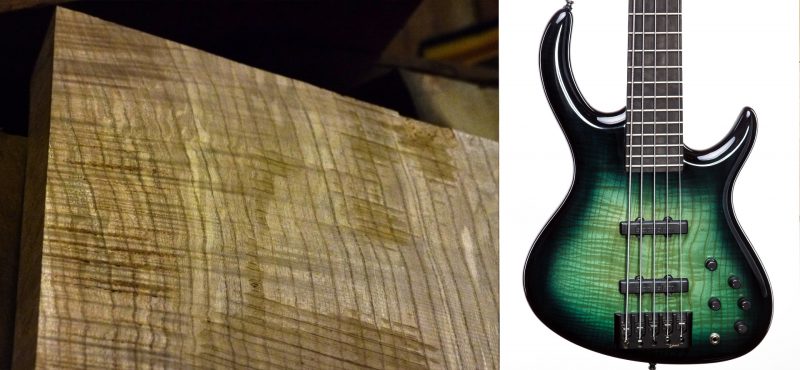 This is a very hard wood with a strong, defined and balanced bass-fundament and a great punchy attack.

Muvingue has a articulated midrange, is punchy and transports a warm bass sound

Ovangkol has a massive, growling sound with lots of sustain, as well as a wide spectrum in the highs and high-mids.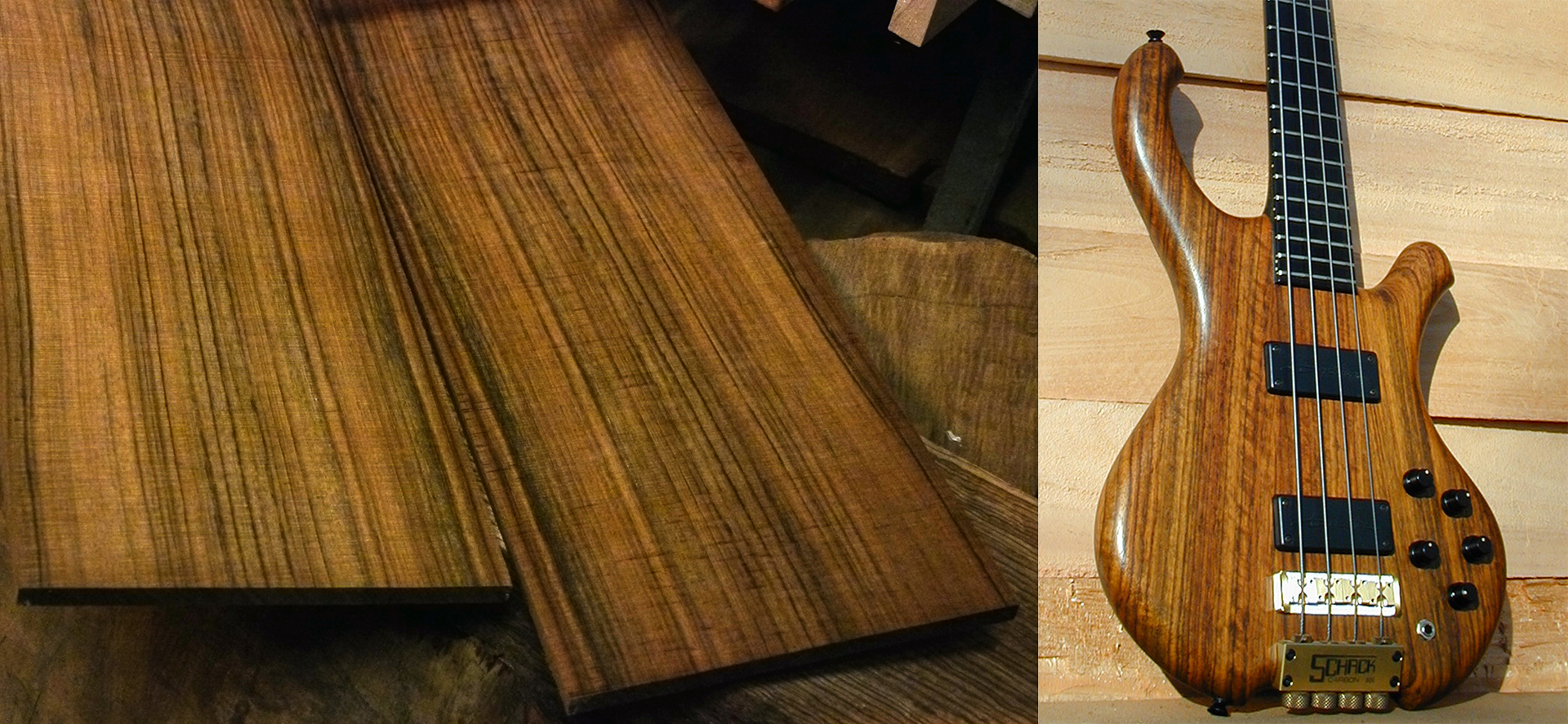 Ebony is a very hard wood that's very suitable for fingerboards and adds the extra portion of crispy highs to your sound
Poplar is a softer wood and brings a defined, but warm bass ground and a balanced midrange
is one of the softer tone woods that delivers a defined but warm bass ground, a balanced midrange and smooth highs on top

Mahogany has a exceptional good sounding midrange, is very punchy and has also a strong sustain